white single wall dimmer switch 220v PWM LED 0-10v 1-10v dimmer
SMT50-D1 is a 0-10v touch dimmer switch in white, with output current 50ma, and Output Interface:DC0-10V output can work with LED 0/1-10V DIM driver, also, the Input Interface is AC100-265V to supply power for the controller it takes.
Speficiations:
Supply voltage : AC100-265V

Frequency: 50/60Hz

Output voltage: 0-10VDC

Output current:

50mA

Static power: <1.2W

Working temperature:

-20℃-50℃

Product dimension:

L86*W86*H38mm

Packing size:

L116*W110*H51.5mm

Net weight:

170g

Gross weight: 228g
Interface Introduction: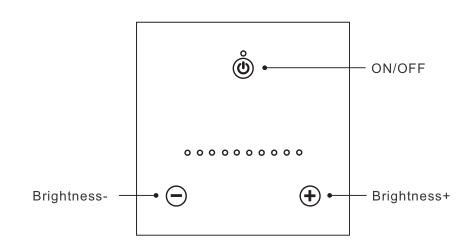 1). Brightness+:add one grade from 0-10V by each press
2). Brightness-:reduce one grade from 0-10V by each press
3). Combination KEY ( + -) : Output Pattern can be switched between constant voltage and constant current Pattern for constant votlage driver or constant current driver.
4). Combination KEY only works when dimmer closed,The Factory Default is constant voltage pattern.
5). During the pattern switching , when in Constant voltage pattern the front 5 indicator lights will up,when in constant current pattern the back 5 indicator lights will up.
Remark: If the lamp is not light up after correct wiring and power on according to the illustration figure shown. Please check the dimmer brightness level is not level 0? In order to easy for debugging observation please adjust the brightness level to a suitable level.
Dimension & installation instruction: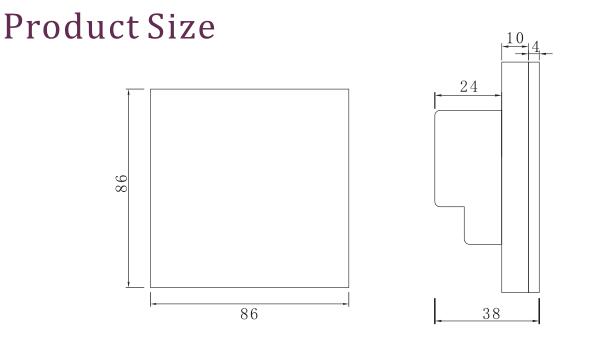 installation: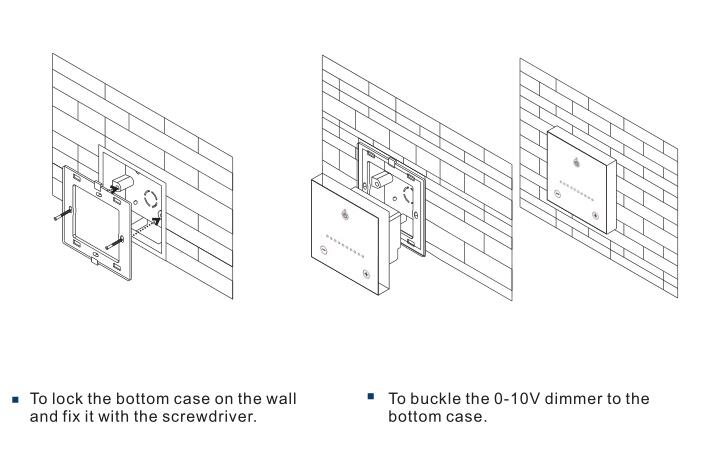 How many pcs LED driver can be connected one 0-10v dimmer switch?
The output current of our dimmer switch is 50ma, Calculate the current absorbed by the dimming power supply. If the power supply needs to absorb 0.5mA, then theoretically the dimmer can control max. 100 power sources at the same time. and actually, we don't suggest to connect with such high qty in the LED lighting applications, because the output voltage of this dimmer switch is constant 10Vdc. The voltage and length of sginal wires will cause voltage drop problem which will make, and the synchronization in brightness be very different.
More information about our dimmer switch, don't hesitate to contact us.