LED Light Class 2 12Vdc LED Dimmable Power Supply Transformer 240V 110V 12V for usa and Canada Market
SMT-012-030VTDSP is the highly efficient led light class 2 power supply with built in TRIAC, 0-10V, MLV, ELV, and PWM dimming capabilities. It is certified to CSA,UL,CE,FCC, TYPE HL, Class P, Class 2 Standards, and is fully compatible with U Technology 12V UNITI and SENSOR Series.
model

SMT-012-030VTDSP

SMT-024-030VTDSP

Output

DC Voltage

12VDC

24VDC

Voltage Accuracy

±5%

±5%

Rated current

2.5Amp

1.25Amp

Rated power

30W

30W

Voltage Regulation

±0.5%

Load Regulation

±1%

Input

Voltage Range

100-277 VAC

Frequency Range

47~63HZ

Power Factor ( Typ.)

PF≧0.99/110V ; PF≧0.98/277V

THD(Typ. ) @ full load

<10%@120VAC <15%@277VAC

Full Load Efficiency(Typ.)

80%@120VAC 81%@277VAC

80%@120VAC 81%@277VAC

AC Current(Typ.)

0.5A

Inrush Current(Typ.)

13A

Leakage current

<0.5mA

Protection

Short Circuit

Hiccup mode, recovers automatically after fault condition is removed.

Over Loading

≤120% shut down o/p voltage, re-power on to recover

Over temperature

100℃±10℃ shut down o/p voltage, automatically recover after cooling.

Environment

Working TEMP.

-40~+60℃

Working Humidity

20~90%RH,non-condensing

Storage TEM.,Humidity

-40~+80℃,10~95%RH

TEMP.coefficient

±0.03%/℃(0~50℃)

Vibration

10~500Hz, 2G 10min./1 cycle,period for 60min. each along X,Y,Z axes

Safety&EMC

Safety standards

UL8750 +UL1310,CAN/CSA-C22.2 No.250.13

Withstand voltage

I/P-O/P:1.88KVac

Isolation resistance

I/P-O/P:100MΩ/500VDC/25℃/70%RH

EMC EMISSION

FCC Part 15 B

EMC IMMUNITY

Compliance to EN61000-4-2,3,4,5,6,,11, Alight industry level

Others

Weight

0.35Kg

Size

260*32*20mm (L*W*H)

packing

50PCS/CTN Carton size: 330*270*130mm

Notes

1. All parameters NOT specially mentioned are measured at 110VAC, 277VAC input , Rated load and 25℃of ambient temperature.

2. Tolerance:includes set us tolerance,line regulation and load regulation .

3. The power supply is considered as a component that will be operated in combination with final Equipment. Since EMC performance will be affected by the complete installation, the final equipment manufactures must be-qualify EMC Directive on the complete installation again.
Mechanical Specification

Ø Input terminals "Black" and "White" to connect to AC L and N.
Ø Output LED SEC output Positive (LED+) , output negative(LED-). Connected to LED light.
Ø Output terminals DIM (+) to 0/1-10V dimmer signal(+ ),DIM (-) white connect to 0/1-10V dimmer signal (-)
Ø Please DO NOT connect "DIM-" to "LED-", "DIM+" to " LED+" ,or other incorrect connection.
Ø Please make sure your connect these correctly otherwise your product will not function correctly and could be damaged.
Derating Curve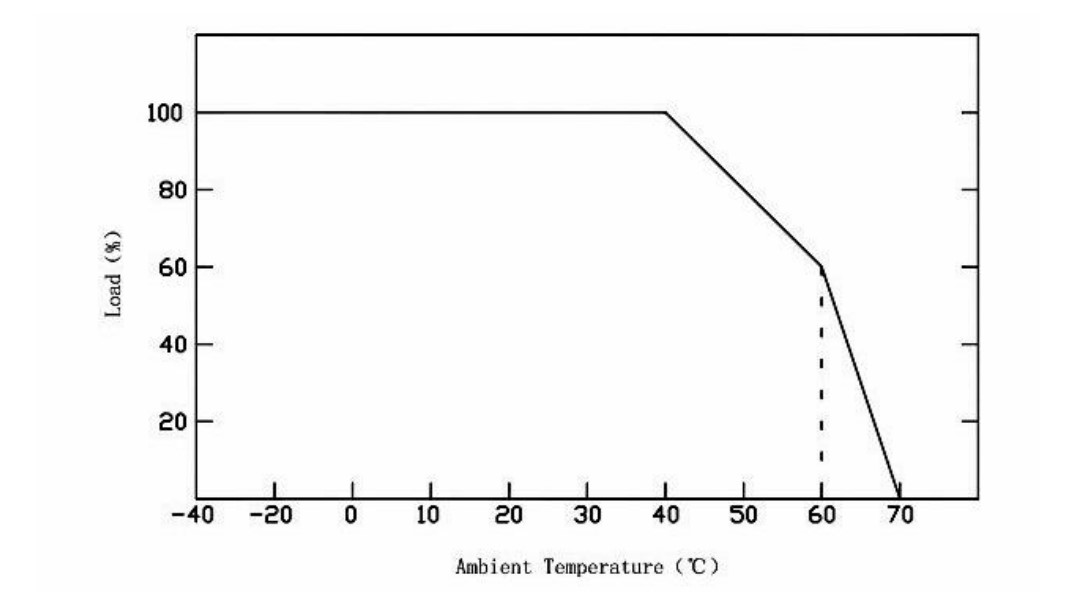 Ø Load carried in accordance with the load derating curve, according to the ambient temperature derating, in order to extend the service life.
Dimming Operation and Connecting Diagram
1. Using two ways of dimming at the same time
customers should be assured that LED lighting is up to the max. Brightness then you could operate with the other dimming;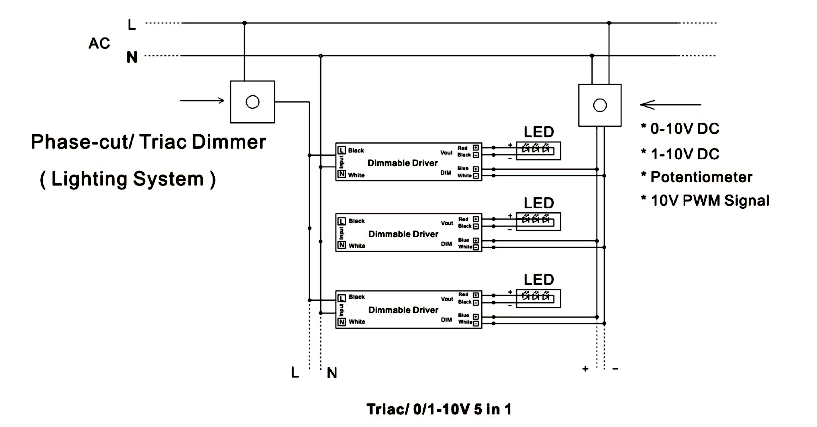 2. Using one dimming ---TRIAC/Phase cut dimming
Ø The Pulse-Width Modulation (PWM) of output voltage can be adjusted through input terminal of the AC phase line(L) by connection a phase /Triac dimmer of lighting system.
Ø Working with forward phase /leading edge ,MLV and Reverse phase /trailing edge ,ELV,TRIAC dimmers
Ø Min loading is about 10%
Ø Please try to use dimmers with power at least 1.5 times as the output power of the driver.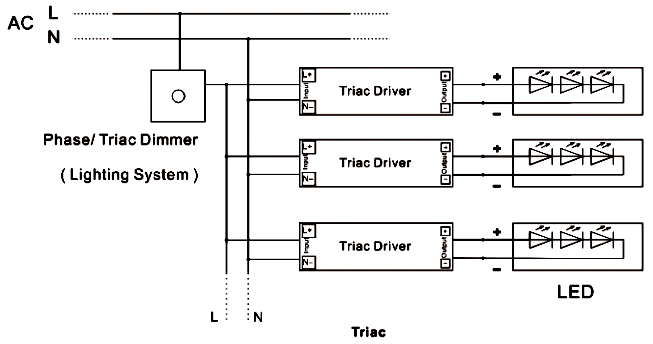 3. Using one dimming ---0-10/1-10V dimming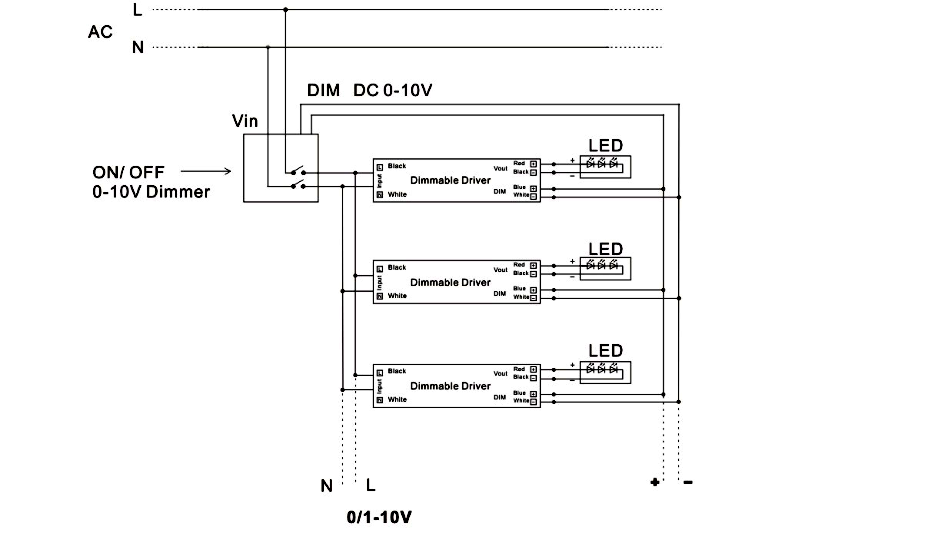 Compatible Lighting Type
SMARTS's dimming led power supply can be work well with LED-C001BN 14W 14" 120V LED CLASSIC FIXTURE DIMMABLE NICKEL from amaxlighting. Available in White, nickel and bronze finishes. Cool white and warm white available.
Related Products



The 12Vdc led dimmable power supply is the perfect solution for any lighting commercial application requiring 0-10V dimming. Class 2 power supply features overload protection, automatic shut-off







Mode:SMT-012-030VD

intput voltage:100~265V AC

Efficiency > 82%

Size:140*45*28mm(L*W*H)

Weight:0.55Kg/pcs