Specification:
model

SMT-012-200VTD

SMT-024-200VTD

Output

DC Voltage

12V

24V

Voltage Tolerance

±0.5V

Voltage Regulation

±0.5%

Rated current

16.66A

8.33A

Load Regulation

±2%

±1%

Rated power

200W

200W

Input

Voltage Range

100~277V AC

Frequency Range

47~63HZ

THD(Typ.) @full load

<20%@120VAC &277VAC

Power Factor ( Typ.)

Full Load Efficiency(Typ.)

84%@120VAC 87%@277VAC

85%@120VAC 88%@277VAC

AC Current(Typ.)

2.3A

Inrush Current(Typ.)

15A, 50%, 1.4ms @120VAC; 30A, 50% 1.4ms @277VAC

Leakage current

<0.5mA

Protection

Short Circuit

shut down o/p voltage, re-power on to recover afterfault condition removed.

Over temperature

100℃±10℃ shut down o/p voltage,automatically recover after cooling.

Over Loading

≤120% constant current limiting, auto-recovery

Environment

Working TEMP.

-40~+60℃

Working Humidity

20~90%RH,non-condensing

Storage TEM.,Humidity

-40~+80℃,10~95%RH

TEMP.coefficient

±0.03%/℃(0~50℃)

Vibration

10~500Hz,2G 10min./1 cycle,period for60min.

each along X,Y,Z axes

Safety&EMC

Safety standards

UL8750 , CAN/CSA-C22.2 No.250.13

Withstand voltage

I/P-O/P:1.88KVac

Isolation resistance

I/P-O/P:100MΩ/500VDC/25℃/70%RH

EMC EMISSION

FCC 47 CFR Part 15 ,Subpart B

Others

NetWeight

1.5Kg

Size

256*78*47mm (L*W*H)

packing

329*279*176mm ,10PCS/ctn

Notes

1. All parameters NOT specially mentioned are measured at120VAC input , rated load and 25℃of ambient temperature.

2. Tolerance: includes set up tolerance, line regulation and load regulation .

3. The power supply is considered as a component that will be operated in combination with final Equipment. Since EMC performance will be affected by the complete installation, the final

equipment manufactures must be-qualify EMC Directive on the complete installation again.
■ Mechanical Specification: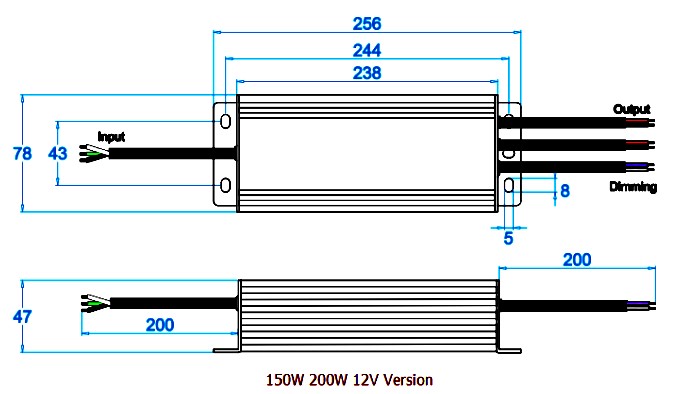 ü Input cable 3*18AWG,the green cable to (FG) "Black" to L ,and "White" to N of Mains AC
ü Output cable 2*16AWG,Red" (+) to LED Positive side (+) , "Black"(-) to LED Negative side (-). noted that 12V 200W is with 2 group of 2*16AWG output wires to separate the output current.)
ü Dimming cable 2*18AWG,DIM (+) Purple to 0/1-10V dimmer signal(+ ),DIM (-) Grey to 0/1-10V dimmer signal (-)
ü Please DO NOT connect "DIM-" to "LED-", "DIM+" to " LED+" ,or other incorrect connection.
ü Please make sure your connect these correctly otherwise your product will not function correctly and could be damaged.
Ø Derating Curve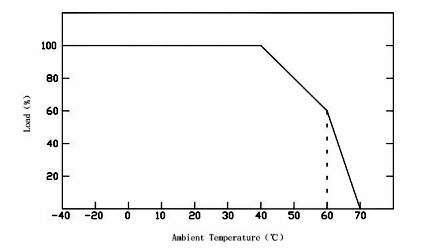 ü Load carried in accordance with the load derating curve, according to the ambient temperature derating, in order to extend the running life.
Ø Dimming Operation and Connecting Diagram
ü Using two ways of dimming at the same time, you must be assured that LED lighting is up to the max. Brightness then you could operate with the other dimming;
² Using one dimming ---TRIAC/Phase cut dimming
1. The Pulse-Width Modulation (PWM) of output voltage can be adjusted through input terminal of the AC phase line(L) by connection a phase /Triac dimmer of lighting system.
2. Working with forward phase /leading edge ,MLV and Reverse phase /trailing edge ,ELV,TRIAC dimmers
3. Min loading is about 10%
4.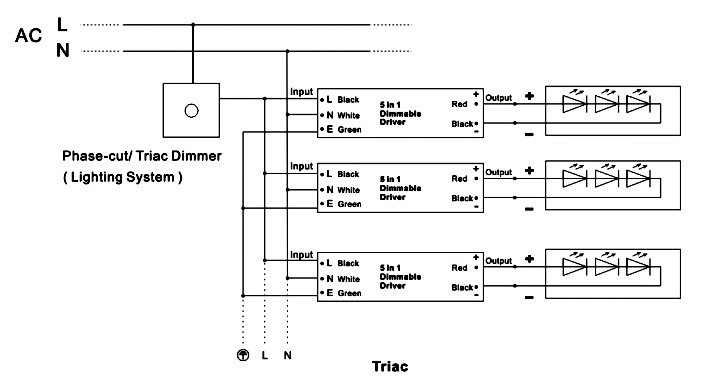 Please try to use dimmers with power at least 1.5 times as the output power of the driver.
Ø Instruction:
l This driver should be installed by qualified and professional person;
l Please make sure the driver is installed with adequate ventilation around it to allow for heat dissipation.
l Ensure that wiring is correct before test in order to avoid light and power supply damage;
l If the LED drivers do not work normally, pl. don't maintain privately, but contact us: [email protected] Or take a phonecall: 0086-595-22863721 ext.808 Official website: www.smarts-electronics.com & www.swinpower.com
Compatible Dimmer Type
SMARTS's UL Triac Dimmable LED Driver have been tested for compatibility dozens of brands dimmer.such as LEVITON/LEGRAND/LUTRON dimmer
Related Products



24v dimmable led driver 96W are UL CE ROHS approval.it is widely used in various industries, such as:INdoor LED illuminating lights,LED Neon,LED City Decoration,LED Lighting Advertising,LED Display,Safety Protection Apparatus.......




Mode:SMT-024-096VTHW

intput voltage:100~277V AC

Efficiency > 82%

Size:230*70*46mm (L*W*H)

Weight:1.1Kg/pcs