slimline ip66 IP67 constant voltage LED driver 12v dc 12w
This 12v 12w led driver feature flexible input voltage (100-265VAC) and can be ordered in 12VDC or 24VDC outputs. this constant voltage led driver are rated to run at 80% continuous wattage or 10Watts continuous.SMT-012-024VW is waterproof led driver works longer than meanwell 12v led power supply in humid environment
Features
SPECIFICAION

MODEL

SMT-012-012VW

SMT-024-012VW

OUTPUT

DC VOLTAGE

12V

24V

RATED CURRENT

1A

0.5A

AC CURRENT RANGE

0.20A @110VAC / 0.099A@220V

0.20A @110VAC / 0.099A@220VAC

RATED POWER

12W

12W

RIPPLE&NOISE(max)

1.11v

1.12V

voltage TOLERANCE

12V±5%

24V±5%

SETUP RISE TIME

80ms/110VAC

80ms/110VAC

HOLD UP TIME(Typ.)

60ms/110VAC

60ms/110VAC

INPUT

VOLTAGE RANGE

100~265Vac

100~265Vac

FREQUENCY RANGE

50~60Hz

50~60Hz

POWER FACTOR(Typ.)

EFFICIENCY(Typ.)

>83%

>82%

AC CURRENT(Typ.)

0.3A/110V, 0.5A/220V

0.33A/110V,0.45A/220V

INRUSH CURRENT (Typ.)

COLD START 30A/110~220VAC

PROTECTION

Short circuit

Protection type:recovers automatically after condition is removed

Overload

overload protected@145-160% above peak rating

Over temperature

Protection type:Shut down o/p voltage,re-power on to removed

ENVIRONMENT

WORKING TEMP.

-30~+50℃ (Refer to output load derating curve)

WORKING HUMIDITY

20~99% RH non-condensing(Waterproof)

STORAGE TEMP.,HUMIDITY

-40~+80℃,10~99%RH

SAFETY&EMC

SAFETY STANDARDS

ETL, CE Mark(LVD), IP67

WITHSTAND VOLTAGE

I/P-O/P:1.5KVAC IP-GND:1.5KVAC

EMC Test Standards

EN55015:2006;EN61547:1995+2000;EN61000-3-2:2006

EN61000-3-3:1995+A2:2005;EN61346-1:2001;EN61347-2-13:2006

NOTE

1.All parameters NOT specially mentoned are measured at 110VAC, 220VAC input,

rated load and 25℃ of ambient temperature.

2.Ripple&noise are measured at 20MHz of bandwidth by using a 12" twisted pair-wire terminated with a 0.1uf&10uf parallel capacitor.

3.Tolerance:includes set up tolerance,line regulation and load regulation.

Label



Dimension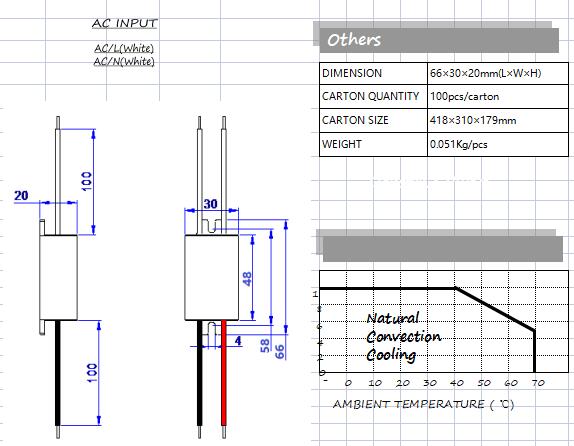 What kinds of LED drivers SMARTS offer?
SMARTS offers a full line of constant voltage led driver / power supply. A high quality constant voltage power supply/transformer results in your LED lights using less energy, shining brighter, and lasting longer. That's why SMARTS offers the highest quality LED power supplies. Our power supplies can be used with a wide variety of in-line LED dimmers. All of our power supplies are energy efficient and eco friendly. more wattage avalable in 20w, 24w, 30w, 36w, 60w and so on, Max. watatge would be 300w.
More questions, let us know.